products categorization
See our product categories in this section
Best-selling products
See our best-selling products here
Newsletter and Training
Newsletters and training in various fields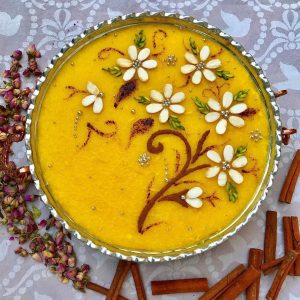 In addition to being a traditional hot dessert for a variety of vows and special occasions, yellow flakes are a great cool dessert for a unique party with flavor and aroma.
Yellow flakes are one of the best choices for dessert.
Of course, it is a bit heavy and it is better to serve a small amount, but it is very nutritious and has a wonderful taste.
Ingredients for preparing yellow flakes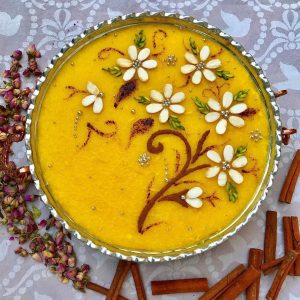 Rice: 1 measure
Water: 6 measures
Sugar: 2 measures
Almond slice: 1/4 measure
Butter: 50 grams
Grilled and brewed saffron: Half a cup
Rose: 1/2 measure
Cardamom 1/4 teaspoon
Cinnamon and sliced pistachios and almonds: to the desired amount
How to make yellow flakes

Yellow flakes are usually made in the same way. Yellow rice is better to be semi-grain and Iranian, but full rice is also used, it only takes a little time to cook and requires about one or two cups of more water.
Soak the rice the night before and put it on the heat with the amount of water to cook. After boiling, heat gently so that the rice cooks slowly and opens itself. It is very important that it is fully cooked.
Then add butter and saffron and give it another chance to turn yellow. Meanwhile, stir in the yellow flakes so that they do not settle, and continue to heat gently.
The whole cooking process takes about two to three hours. Once you feel the concentration is enough, you can add rose and cardamom and after five minutes, remove the yellow flakes from the flame.
Finally, add the sliced almonds that you have already soaked. Of course, you can only use sliced almonds for garnish.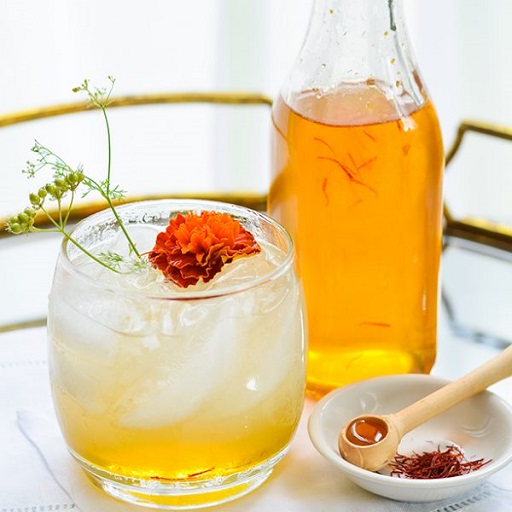 As summer approaches, our bodies lose a lot of water due to high transpiration. Dehydration can lead to many problems, including headaches, severe depression, high blood pressure, fatigue, dry skin, etc. Instead of drinking water, it's a good idea to include a variety of syrups in your diet. One of the best syrups we offer is saffron syrup. In addition to quenching thirst, it also has many properties.
Ingredients for preparing saffron syrup
Abrased saffron: Half a tablespoon
Rose: 3 tablespoons
Water: Half a liter
Shukria or Honey: To the extent necessary
How to make saffron syrup
first stage: Put the water in a saucepan over a flame until it reaches boiling point. Reduce heat, add sugar to honey and stir well until completely dissolved.
second stage: After the sugar or honey is completely dissolved in the water, add the soaked saffron to the mixture and stir well. Then add rose water and put the syrup on the heat for 10 minutes to thicken.
third level: Remove from the heat, after the syrup has cooled, pour it into a suitable container and place in the refrigerator.
Step 4: Whenever you want to drink syrup, mix a quarter of a glass of syrup with cold water and drink it.
tip: If you want, you can also use syrupy eggs or milk powder to make this syrup to make the syrup look more beautiful and have more properties. To do this, if you are using syrup eggs, soak them beforehand to make them glazed, then add them to the syrup. If you use sorrel, wash it well to remove all stones and small particles, then pour it into the syrup.
Chicken kebab is one of the traditional and Iranian dishes and in our country it is often prepared with saffron, butter and pilaf and is one of the foods that is very popular. There is a different way of flavoring or marinating chickens, which makes a difference in the taste of restaurant and home grilled chicken. The main step in cooking this dish is to taste the chicken meat. In the continuation of this article, you will be explained how to prepare saffron kebab chicken.
Ingredients for making chicken kebab with yogurt and saffron
Chicken: 1 with a weight of about 1 kg
Yogurt: 2 tablespoons
Saffron brewed: 1 tbsp
Onion: 1 large number
Lemon juice: 2 tbsp
Pepper, salt and butter: as needed
Tomatoes: As needed
How to prepare delicious and delicious grilled chicken
Step 1: First we start cleaning the chicken and divide it into small pieces.
Step 2: Wash the chicken pieces.
Step 3: Cut the onion into slices.
Step 4: Add the onion pieces to the chicken pieces and mix well.
Step 5: Now add sour lemon juice and yogurt to the chicken pieces and mix so that the chicken is completely browned and marinated.
Step 6: Slowly add the brewed saffron to the mixture to achieve the desired color.
Step 7: Add salt and pepper.
Step 8: Finally, after mixing the ingredients well, put the lid on the container and put it in the refrigerator for 6-8 hours.
Step 9: Next, after the meat is ready, we skewer the chicken pieces for better cooking at a distance. When skewering chickens, make sure to skewer the breast and fillet pieces together and the chicken, wing, and thigh pieces separately. Because the meat of different parts of the chicken's body is different and some parts are grilled and cooked faster. It is best to use two parallel skewers to roast the thighs so that the head of the thighs passes from one skewer and the lower thighs pass through the other skewer.
Step 10: Drain the butter and when the kebabs are cooking on the grill, brush a small amount of butter on them, which will make the kebabs more delicious.
Step 11: Cut the tomatoes in half and skewer. To make it more beautiful and if you want, you can also use pepper between the tomatoes.