In addition to being a traditional hot dessert for a variety of vows and special occasions, yellow flakes are a great cool dessert for a unique party with flavor and aroma.
Yellow flakes are one of the best choices for dessert.
Of course, it is a bit heavy and it is better to serve a small amount, but it is very nutritious and has a wonderful taste.
Ingredients for preparing yellow flakes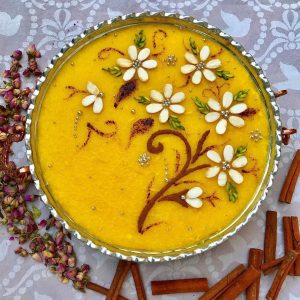 Rice: 1 measure
Water: 6 measures
Sugar: 2 measures
Almond slice: 1/4 measure
Butter: 50 grams
Grilled and brewed saffron: Half a cup
Rose: 1/2 measure
Cardamom 1/4 teaspoon
Cinnamon and sliced pistachios and almonds: to the desired amount
How to make yellow flakes

Yellow flakes are usually made in the same way. Yellow rice is better to be semi-grain and Iranian, but full rice is also used, it only takes a little time to cook and requires about one or two cups of more water.
Soak the rice the night before and put it on the heat with the amount of water to cook. After boiling, heat gently so that the rice cooks slowly and opens itself. It is very important that it is fully cooked.
Then add butter and saffron and give it another chance to turn yellow. Meanwhile, stir in the yellow flakes so that they do not settle, and continue to heat gently.
The whole cooking process takes about two to three hours. Once you feel the concentration is enough, you can add rose and cardamom and after five minutes, remove the yellow flakes from the flame.
Finally, add the sliced almonds that you have already soaked. Of course, you can only use sliced almonds for garnish.